Available Mailing Lists
(Some are also available through WhatsApp)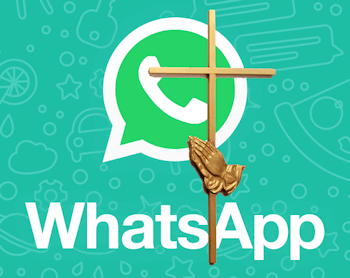 Receive daily emails that provide short messages from the Saints. They will bless your day, uplift your spirit, and inspire your own saintly nature! Each email comes with a quote by a Saint in both English and Spanish.
EN ESPAÑOL - EN ESPAÑOL - EN ESPAÑOL - EN ESPAÑOL: Recibe mails diarios que proveen pequeños mensajes de los Santos. Bendecirán tu día, levantarán tu espíritu, ¡e inspirarán tu propia naturaleza santa! Cada mail viene con una cita de un Santo en ambos idiomas inglés y castellano.
Sign up to be notified about live, in-person events such as retreats, parish missions, and conferences.
Receive only the Sunday edition of the Good News Daily Reflections, delivered to you at the beginning of each week -- A FULL WEEK IN ADVANCE of their use at Mass. Sunday's reflection on the scriptures includes questions for private ponderings and small group discussions, to help you prepare for the NEXT Sunday's Mass.
Making the scriptures meaningful for your everyday life: Receive reflections on the daily readings from the Roman Catholic Mass, Sunday-Friday. THIS IS FOR ZONE 1: THE NORTH AND SOUTH AMERICAN CONTINENTS.
See today's reflection on our home page: http://gnm.org/
Making the scriptures meaningful for your everyday life: Receive reflections on the daily readings from the Roman Catholic Mass, Sunday-Friday. THIS IS FOR ZONE 2: THE EUROPEAN CONTINENT, AFRICA, & HOMILY PREPARATION IN THE AMERICAN ZONE.
See today's reflection on our home page: http://gnm.org/
Making the scriptures meaningful for your everyday life: Receive reflections on the daily readings from the Roman Catholic Mass, Sunday-Friday. THIS IS FOR ZONE 3: SINGAPORE, INDIA, PHILIPPINES, AUSTRALIA, NEW ZEALAND, etc.
See today's reflection on our home page: http://gnm.org/
This is a closed group for participants of the Good News Ministries video course on "How to Find God in Times of Waiting". When members reply to this email, only the instructor will see it, thereby keeping discussions confidential.
Get notified when new events are planned or content is added to any of Good News Ministries' websites and blogs. Find out what's happening behind the scenes and be inspired. Emailed once a week on Saturdays.
Join GNM's Lenten faith community... sign up for a new (temporary, only for this season of Lent) elist.
Who in your life is away from the Church or away from Jesus completely? Think, right now, about how much you care, really care, about the condition of their soul. What if there is something you could do this Lent that makes a difference for their soul?
Jesus gave his all, even to the point of horrific sufferings, to make a difference in your soul. How much are you willing to do, with Jesus, to change the course of others, carrying them with your love away from the path of destruction to the healing of Christ and the glory of Heaven? What are you willing to sacrifice for them? Are you willing to sacrifice for them? How about a sacrifice of prayer?
GNM's daily Lenten email will include:
Daily offering of sufferings and service: a prayer for you to adapt as best befits your circumstances

Rosary of Liberation: a prayer that began in Brazil and is spreading fast around the world due to its amazing effectiveness. It's based on, "What Jesus sets free is free indeed!" You will choose someone to pray for throughout Lent, or a different person or cause each day, to pray for their escape from whatever is holding them back from coming fully alive in true faith.

Praise reports: share with the rest of this Lenten faith community what happens as a result of your sacrifice of prayer. We will build each other's faith, thus strengthening the effectiveness of all our prayers.
Terry Modica, author of the popular Good News Reflections, is working on a book entitled "TEARS FOR ABBA: 30 DAYS TO THE FATHER'S HEART". Discover how much God the Father cares about you -- it's way more than you imagine! Embrace your true self as the Father's beloved child and become fully what he designed you to be. Heal from the dissatisfactions and disappointments that happen in every relationship by fully receiving God's perfect love. Sign up here if you'd like to receive news about this book and see sneak previews of chapters to engage with the author about them while they are still in development.
Receive news about upcoming video courses, webinars, workshops, retreats, etc., which we offer online.
Monthly Giving - Your financial help keeps this ministry going and growing. If we have made a difference, bringing you into greater healing or insight or a better relationship with God and the Church, and if God has provided you with something to share, please become a Good News Partner. Good News Ministries of Tampa Bay is a non-profit (IRS 501C3) organization in the United States of America. U.S. donations are fully deductible for federal tax purposes, under section 170 of the 'Internal Revenue Code'. By joining this Donors mailing list, you will receive a monthly reminder by email.
Be part of the Good News Prayer Network! Minister to others by praying for their needs, and support Good News Ministries with your prayers. Prayer requests are posted at http://gnm.org/pray-for-others/ and emailed to you.
Sanación para tu alma - Crecimiento de tu fe: Recibe las reflexiones sobre las lecturas diarias de la Misa Católica Romana de domingo a viernes. ESTO ES PARA LA VERSION EN ESPAÑOL.
We provide your church bulletin with inspirational quotes by Saints to coincide with the Feast Days of the week. Each month we will email you a reminder with a link to download the following month's weekly quotations. This service is free and uses quotes obtained from the Daily Blessings, another one of our free e-list services.
Únete a la comunidad de fe de Cuaresma de GNM... suscríbete a la nueva lista (temporal, sólo para este tiempo de Cuaresma).
¿Quién, en tu vida, está lejos completamente de la Iglesia o de Jesús? Piensa ahora mismo cuánto te importa, realmente te importa, la condición en que se encuentra su alma. ¿Qué pasaría si hubiera algo que pudieras hacer esta Cuaresma que marcara una diferencia para sus almas?
Jesús se entregó totalmente, incluso al punto de soportar sufrimientos terribles, para hacer una diferencia en tu alma. ¿Cuánto estás dispuesto a hacer, con Jesús. para cambiar el camino de otros, llevándolos con tu amor lejos del camino de la destrucción, hacia la sanación de Cristo y la gloria del Cielo? ¿Qué estás dispuesto a sacrificar por ellos? ¿Estás dispuesto a sacrificarte por ellos? ¿Qué tal un sacrificio de oración?
El correo diario de Cuaresma de GNM incluirá:
Ofrecimiento diario de sufrimientos y servicio: una oración para ti para que se adapte lo mejor posible a tus circunstancias.

Rosario de Liberación: una oración que comenzó en Brasil y está difundiéndose rápidamente por todo el mundo, debido a sus resultados sorprendentes. Está basado en: "¡Lo que Jesús libera queda realmente liberado!" Elegirás a alguien por quien orar durante toda la Cuaresma, o por diferentes personas o causas cada día, para que escapen de cualquier cosa que esté deteniéndolos de estar plenamente vivos en una verdadera fe.

Oración de Agradecimiento: comparte con el resto de esta comunidad de fe de Cuaresma, lo que suceda como resultado de tu sacrificio de oración. Edificaremos mutuamente nuestra fe fortaleciendo, así, la efectividad de todas nuestras oraciones.
Terry Modica, autora de las famosas Reflexiones de las Buenas Nuevas, está trabajando en un libro titulado "LÁGRIMAS PARA PAPÁ: REFLEXIONES PARA SANAR LAS HERIDAS PATERNAS MEDIANTE LA PATERNIDAD DE DIOS." Descubre cuánto se preocupa Dios Padre por ti -- ¡mucho más de lo que imaginas! Abraza tu verdadero ser como el hijo amado del Padre y conviértete totalmente en aquello para lo que él te diseñó. Sana las insatisfacciones y desilusiones que suceden en cada relación, recibiendo plenamente el amor perfecto de Dios. Suscríbete aquí si deseas recibir noticias sobre este libro y para tener adelantos de los capítulos, participando con el autor mientras los capítulos aún están en desarrollo.
Would you like to be informed of events held in our St. Paul Seminar Room in Tampa, Florida? If so, please sign up to this announcement mailing list.
Join the newest way to build your faith! Subscribe to find out when new Virtual Reality experiences are added to the Good News Ministries website. We will also send you occasional news and celebrations about our Virtual Reality ministry.