Dear Friend,
Today we are celebrating 24 wonderful years of changing hearts for Christ!
On January 30th, 1995, the idea of starting Good News Ministries of Tampa Bay was given to Ralph (my husband) and me as we were introduced to a core team that God had already put together. For that story, visit gnm.org/about-us/about-history/. To celebrate with us, "open" this birthday card by scrolling down.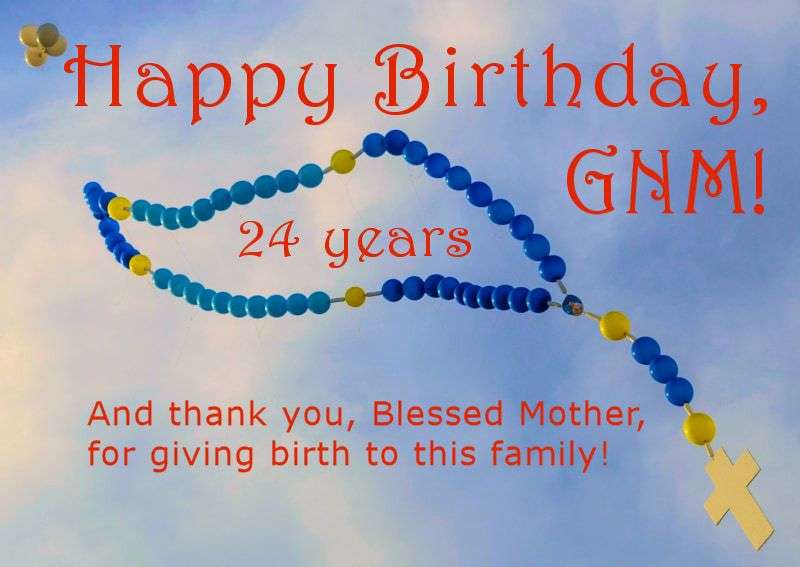 The Good News Ministries family began with an amazing core team, local priests who were excited about what we were called to do, and opportunities to give seminars, courses, and week-long conferences.
Understanding the value of technology for spreading the Good News, in 1996 we launched our first website; that was back in the day when I had to hand-code it in Notepad. We were one of the first Catholic ministries to go online. In 1999, I began writing and emailing the daily Good News Reflections for friends. They forwarded the reflections, and soon the number of subscribers grew, reaching more than 15,000 in just a few years. By 2001, we were so international that the rector of a seminary in Malawi asked me to come teach for a week to his professors, seminarians, and the catechists of his diocese (God provided the funds for that trip in 2004). That turned out to be one of the top experiences of my life!
Today, we are still pioneering uses for new technologies in the mission of Christ. Here's a short list of the many ways we're providing faith-builders now, from "old" methods to the new and innovative.
Why do the team and I work so hard to provide so much?
I feel like we've only just begun! The need for what we do is huge. The potential for what we could do is significant.
There are too many people today who are turning their backs on Christ and Church and their own salvation. The numbers have been increasing and the world is worse off for it. Meanwhile, there are too few passionately committed disciples of Christ embracing the mission with their whole heart and soul and life. If we allow Good News Ministries to slow down or shrink (there is no such thing as plateauing and staying there), we sin greatly and we will be accountable for the souls that we could have reached but did not. (Wow, ouch! Imagine dying and discovering how many souls failed to reach heaven because of you.)
The word that the Lord has given to us and confirmed and re-confirmed down through the years is that we must reach out and find people who are not being served well by their local churches, and those who are not interested in going to church, and those who are hurting and seeking the Lord.
God is a God of more. There is much, much more that needs to be done for his kingdom in this world today. So much darkness, yet so few are spreading the Light of Christ! Although I'm turning 64 in a few weeks, I'm not slowing down. I will continue to work hard to spread that light all the way to my dying breath. But I need help.
Thanks to everyone who feels the same sense of accountability, we are adding Pete Socks to the staff as an assistant webmaster to save me quite a lot of hours. We are also hiring Bill Snyder as a media assistant; he has begun to improve the professionalism and the avenues of outreach of our videos and podcasts, thus freeing me to produce more (I haven't made a new video since last October, and I haven't had time to work on my book "30 Days to the Heart of the Father" since August). I also need to hire someone locally to handle the rapidly growing WhatsApp ministry.
The question is, can we afford to do all this? After going deep into prayer about it, the Lord reminded me: With the current level of faithlessness in the world, we cannot afford to not do this.
Please pray about your role on the team. Join me in giving God an enthusiastic, whole-hearted yes for all that he calls us to do.
Make a donation today. We're still trying to reach the $55,000 January goal.
Thanks for being part of the Good News Ministries family!
Blessings of Peace and Grace
as we serve Christ together,
Terry Modica
Executive Director
Good News Ministries
Changing hearts for Christ since 1995
http://gnm.org

Keep your eyes on Jesus!

My God will fully supply whatever you need,
in accordance with his glorious riches in Christ Jesus.
(Phil 4:19)
Thank you for the privilege of supporting your faith growth.